Dunwoody Chamber of Commerce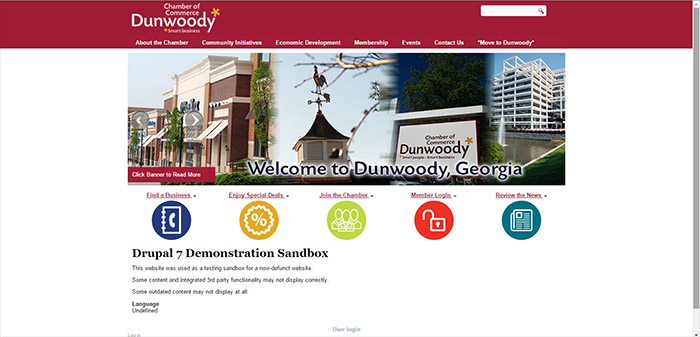 The website referred to in the blog post is now closed.
Official website of the Dunwoody Chamber of Commerce from 2008 – 2015
Drupal 7 with custom module selection for unique combination of requested features.
Third party database integration into content and theme (ChamberMaster).  Method for complete and seamless integration was invented by SDOC Publishing.  Response theme for complete mobile use, including "web app" prompt to save an icon and splash screen from the website.  Innovation cut several thousand dollars in development cost.
Multiple custom blogs for fast information update by office staff and other employees.
Custom-built icon bar with mega menu for additional content on the  front page while maintaining a simple, streamlined presentation.
Additional capabilities include document management, multiple translations selectable by the viewer, multiple calendars, and workflow management.
WEBMASTER SERVICES:  SDOC assisted with instructing and advising office staff on how to add and edit different types of content, arrange content, especially involving third-party integrations, problem-solving, and adding new capabilities when needed.  SDOC assists with domain name management as well.  SDOC has arranged all hosting, security, software upgrades, and system backups from 2011 til 2015.
Read the blog post at Dunwoody Working Girl for complete specs.
There were several versions of the Chamber site, each commissioned by successive executive directors or board chairs: