Northside Tree Professionals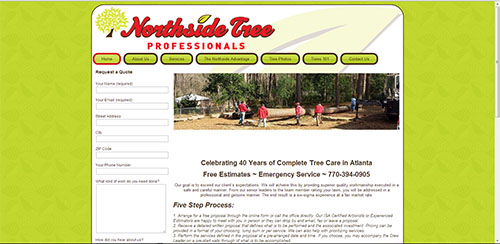 www.northsidetreeprofessionals.com
Northside Tree Professionals of Dunwoody, Georgia.
New WordPress-based site built and designed with custom theme to coordinate with other branding materials.
Full mobile/smartphone site with mobile (QR) marketing via signage and vehicles and mobile landing page.
Social media integration via Facebook, Twitter, LinkedIn, YouTube, and Pinterest.
Customized infographic slideshows and contact forms
Webmaster Services:  complete hosting with web-based office suite and email, assistance with SEO content development, training for social media usage.
Learn more about the creation of this website on the blog.